Build your family tree today with this web app. Free family tree building, sharing and storage solutions. Organize your family photos, tag ancestors and arrange your family albums. Do it all with just one web app.
This web app is only available to users who have taken the mtDNA and/or Y-DNA STR Test.
Already took the test? Get started for FREE!
Easily build and manage your family tree from anywhere

Build: Your family tree using our powerful family tree building tools
Organize: Family photos, tag ancestors and arrange family photos all in one place
Share: Easily share your family tree and collaborate with all your family members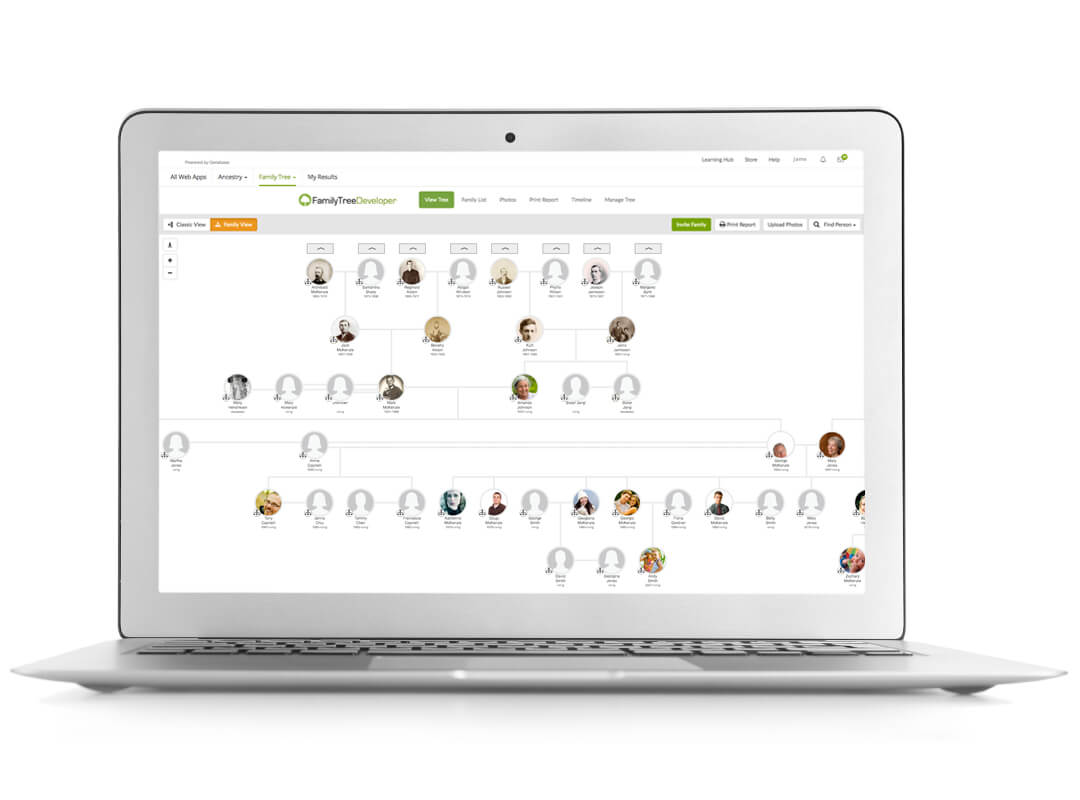 Simple, intuitive and dynamic user interface
Unlimited cloud storage for safely archiving documents
Share your family tree with ALL your family members
Access from anywhere using any device
Print professional reports. Select from 18 professional family tree report templates
Ask a relative to fill in missing information with a simple click of a button within the web app
Access a timeline of all edits to easily track updates and receive update notifictions
Build your family tree. Preserve your family legacy

Powerful family tree management features
Ask a relative, collaborate with family, and receive notifications on edits and updates. 

Your documents are safe and secure with encrypted data transfer and storage.

You have complete control over the accessibility of your family tree information.
Dozens of exciting web apps, all free once your DNA is tested

You only need to test your DNA once to use all of the ancestry web apps for free

Free lifetime membership

New free web apps added as new discoveries are made

Large library of famous historical figures, ethnic and geographical groups and much more!

Search your ancestry and dig deeper
Frequently Asked Questions
Do I need to have mtDNA and/or Y-DNA makers to use this free web app?
Yes, this web app is only available to users who have taken the mtDNA and/or Y-DNA STR Test. Once you have mtDNA and Y-DNA markers, you can have limitless free access to more Genebase-powered free web applications from a variety of ancestry categories like royalty, world leaders, founding fathers, forensic finds, and more!
How do I use this web app?
Genebase will let you know when your mtDNA and/or Y-DNA STR marker results are ready. Testing begins as soon as samples arrive at the laboratory, and the results are released and uploaded immediately to your user account once testing is complete. You can simply log into your Genebase account to access all the free Ancestry web app.
Yes, Genebase works with user accounts. If you have already taken the mtDNA and Y-DNA STR test, you can simply sign in to your Genebase account to view your match results on the web. If you have not tested your mtDNA and/or Y-DNA STR marker, you will need to create a Genebase account with the registration key on your test kit.
Genebase performs analysis on your DNA data. To get more markers, upgrades can be ordered directly from your Genebase user account. All prices shown are in U.S. dollars, and all orders will be charged in U.S. dollars.
Both males and females can take the mtDNA test to trace their maternal line. Only males can take the Y-DNA test to trace their paternal line because only males have Y-DNA. For a female to trace her own paternal line, she would need to test a paternal relative, such as her brother, father, paternal uncles (father's brother), paternal male cousins (father's brother's sons).